Hypertension
High blood pressure (hypertension) is a common condition in which the long-term force of the blood against the artery walls is high enough that it will eventually cause heart disease with a patient population of 300m+ across the EU and US. Long-term high blood pressure is a major risk factor for stroke, coronary artery disease, heart failure, atrial fibrillation, peripheral arterial disease, vision loss, chronic kidney disease, and dementia. Monitoring blood pressure enables cardiologists and physicians to diagnose health problems early. CardioWatch 287-2 enables cuffless noninvasive continuous monitoring of blood pressure.
The Corsano Blood Pressure algorithm was validated according to ISO 81060-2:2019 and the AAMI/ESH/ISO collaboration statement "A Universal Standard for the Validation of Blood Pressure Measuring Devices" 2018. Additional validations LONG-TERM, DEVICE POSITION, RE-CALIBRATION, EXERCISE and TREATMENT are ongoing to meet all ESH recommendations. More...
Atrial Fibrillation
Corsano and Preventicus collaborate on AF Screening and Monitoring in Germany with 20 health insurances with 6 Mio. insured lives are willing/confirmed to join the Managed Care contract "RythmusLeben" based on proven Health Economics. Reimbursement in Germany is based on SGB V §140a within contracts with health insurances. Corsano's CardioWatch 287-1 Monitoring Bracelet is used for screening of Cryptogenic Stroke patients and high-risk patients CHA2DS2-VASc 4 and above.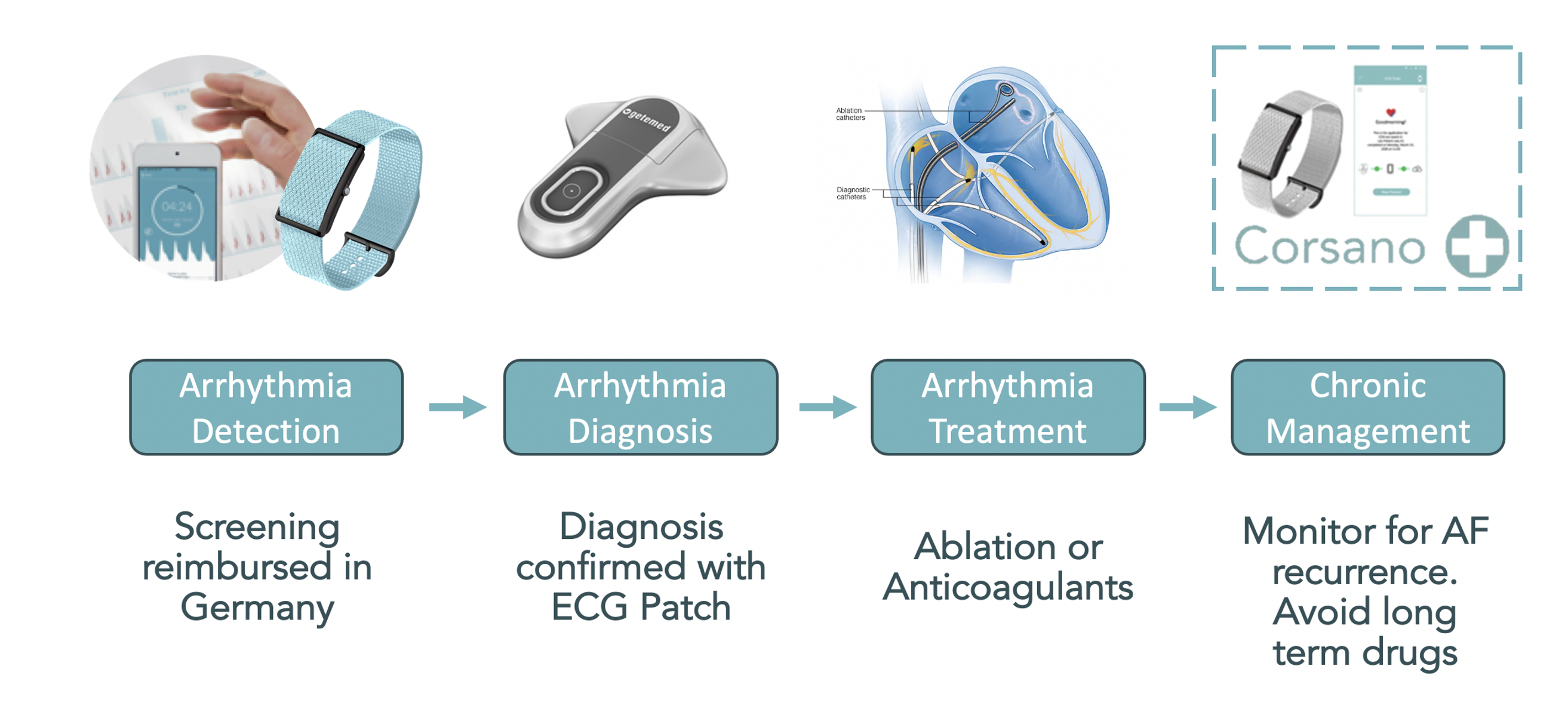 Oncology
Doctors in Cancer Treatment Centers express the same unsatisfied needs and goals:
Develop a better After Care to prevent new tumors, reduce co-morbidity, increase Quality of Life
Improve patients' engagement

Engagement as part of the care to change behaviours and habits of patients
Patients take ownership of the process (self management) while Healthcare Professionals stay involved, with easy remote monitoring
Personalized feedback and design to increase engagement (Usability, user centered design)

Improve toxicity management

Build model for Adverse Event scores, based on body metrics (HR, HRV, Galvanic Skin Response, Core Body Temperature)
Build model for assessment of pain
Manage toxicity and treatment impact
Detect emerging toxicity and adverse events with objective data

Remote coaching. Remote coaching by Healthcare Professionals is perceived positively and will reduce the burden on the Healthcare System
Corsano Health can bring:
Develop mobile APPs for Medical Digital Therapy, to cover patient journey and cancer treatment
Medically certified Bracelet with numerous body metrics measurements
Body metric collection: HR, HRV, SpO2, ECG, Core Body Temperature, Respiration Rate, Blood pressure, Activity, Sleep Galvanic Skin Response (GSR-EDA)
Web Portal Dashboard for easy remote monitoring and care management by physicians and practitioners
Experience of usability design for Seniors (Usability, User centered design)
Experience of customer engagement from Lifestyle/Consumer applications and products
Privacy and security of Data, GDPR and HIPAA compliant
Data analysis, algorithm development, based on Artificial Intelligence and Machine Learning
Post-Operative Care
Tens of millions of patients undergo major surgeries worldwide each year, and the post-operative phase carries a high risk of complications. Although current standard care includes vital sign observations at regular intervals, patients often deteriorate between measurements to the extent that they require admission to intensive care and/or prolonged hospital stay.
Current hospital practice means patients need to remain in hospital post-surgery or return regularly after discharge for follow-up appointments.
Corsano's CardioWatch provides accurate and continuous monitoring of patients following surgery. For example, Corsano's CardioWatch Bracelet allows physicians to better assess the risk of sepsis or an anaesthetic-related apnea event, which can often lead to longer hospital-stays, readmissions, and higher costs for both the patient and the provider. The better data provided by CardioWatch also gives care teams the confidence to get patients moving sooner, leading to faster recovery and earlier discharge.
After a procedure, qualifying patients equipped with CardioWatch 287-2 Bracelet can leave the hospital and recover at home, knowing that their doctor has an eye on their wellbeing from afar. Post-Operative RPM may also cut down on the amount of time a patient might otherwise spend attending outpatient follow-up appointments. More...
COPD
Chronic Obstructive Pulmonary Disease (COPD) is a chronic inflammatory lung disease that causes obstructed airflow from the lungs. Patients have less oxygen and breathing is more difficult. This gives less energy. Normal things like climbing stairs, running errands, or getting dressed can be tricky. While COPD is incurable, it is preventable and treatable. With proper management, most people with COPD can achieve good symptom control and quality of life, as well as reduced risk of other associated conditions. Early detection of COPD exacerbations by monitoring patients with CardioWatch 287 can enable treatment sooner, alleviating their symptoms and likely improving patient outcomes. Corsano is currently running a COPD Trial in collaboration with the National eHealth Living Lab (NeLL).
Cardiac Arrest
Out-of-hospital cardiac arrest is a leading cause of global mortality. Delay to initiation of resuscitation significantly impacts survival rate. Automatic detection of circulatory arrest by the Corsano CardioWatch 287-3 (C287-2 with LTE) will shorten the delay to initiation of resuscitation. Coronary artery disease (CAD) is the main cause of a Cardiac Arrest. Patients with CAD and patients who survived a prior Cardiac Arrest will wear CardioWatch 287-3 continuously. The certified Cardiac Arrest algorithm (expected Q4 2023) monitors continuously and automatically informs the alert center and volunteers reanimation network in case of a detected Cardiac Arrest. In The Netherlands, there are 17'000 Cardiac Arrests per year and +50'000 patients at risk. It is estimated that there are +31 million patients at risk annually in EU and US. Recent news coverage Cardiac Arrest Clinical Trial on RTL News.
Sepsis Detection & Treatment
Sepsis is a life-threatening condition characterized by a dysregulated immune response to infection, leading to organ dysfunction. It is considered a global health concern and a leading cause of death worldwide. Early detection and timely treatment are crucial for improving patient outcomes.
To improve the outcome and to relieve stationary care, Corsano participated in the price winning smart solution for early detection in patients at risk for sepsis at the normal ward / low care units.  The smart system involves the continuous monitoring of vital signs with CardioWatch 287-2 and the use of advanced algorithms and data analysis to identify early signs of sepsis. By continuously monitoring patients and analyzing relevant data, the system alerts healthcare providers to potential cases of sepsis, enabling early intervention.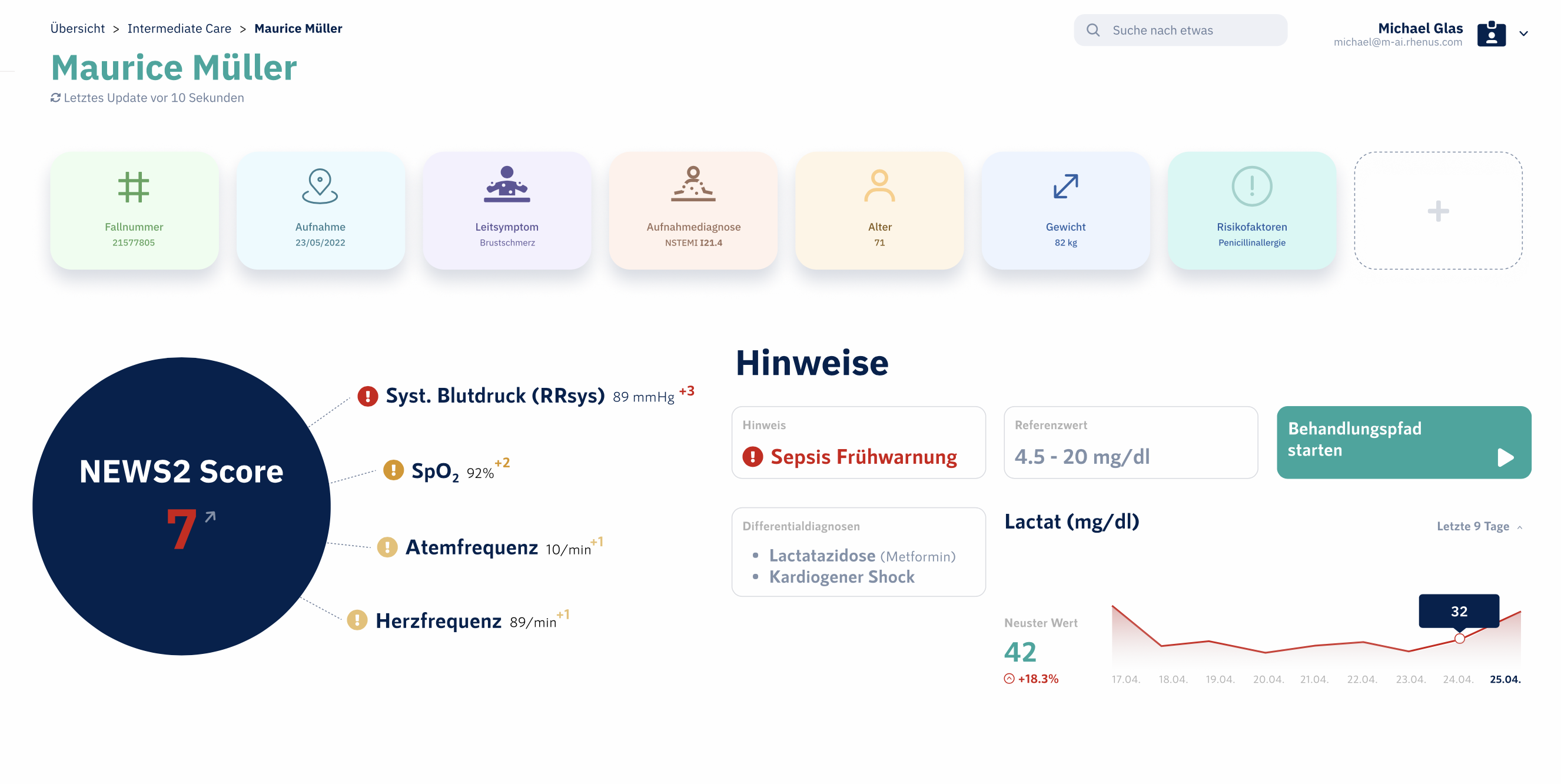 Mental Health
Corsano and Philips are planning to run pilots at Care Organizations monitoring patients and staff with CardioWatch 287-2. Healthcare work has been associated with a considerable level of stress and anxiety leading to exhaustion, difficult triage decisions, separation from families, stigma, fear of being infected, fear of infecting their beloved ones, and pain of losing patients and colleagues. CardioWatch 287-2's accompanying application shows Healthcare workers their stress level up to one hour in advance. This enables them to adjust.