Medical grade, multi-sensor, convenient bracelets for continuous monitoring of cardio-respiratory function
The Cardiowatch Bracelet
The activity and heart rate monitor of Corsano Cardiowatch Bracelet consists of an accelerometer and a photoplethysmogram (PPG) sensor. The PPG sensor consists of an LED and a photodiode and measures fluctuations in the light reflected from the arteries and arterioles in the subcutaneous tissue. From the light fluctuations measured the actual heart rate and potential cardiac arrhythmias can be detected. In addition to the PPG sensor the accelerometer provides data on the activity level of the wearer of the bracelet.
Corsano Cardiowatch not only analyses your heartbeat, but also and especially your heart rhythm – simple and at any time. The A-Fib algorithm has been validated in clinical studies and detects irregular heartbeats (e.g. extrasystoles) as well as the presence of absolute arrhythmia with suspected atrial fibrillation (AF).
The bracelet monitor offers flexibility to set data collection intervals by minute, by second or 25Hz, 32Hz and 128Hz. We measure Heart Rate, RR intervals, Breathing Rate, A-Fib detection, SpO2, Core Body Temperature, ECG, Activity and Sleep. Blood Pressure algorithm is in final development.  Click on image to download the relevant Cardiowatch 287 leaflet.
Corsano Trials
Cardiowatch 287 is a medically certified wireless remote monitoring system intended for continuous collection of physiological data in home and healthcare settings. Corsano offers data via it's cloud platform or API/SDK solutions. Integration with the iOS and Android SDK enables that patient data remains completely private in our customers data analytics platforms. Researchers can set which Vital Parameters they would like to monitor and at which frequency.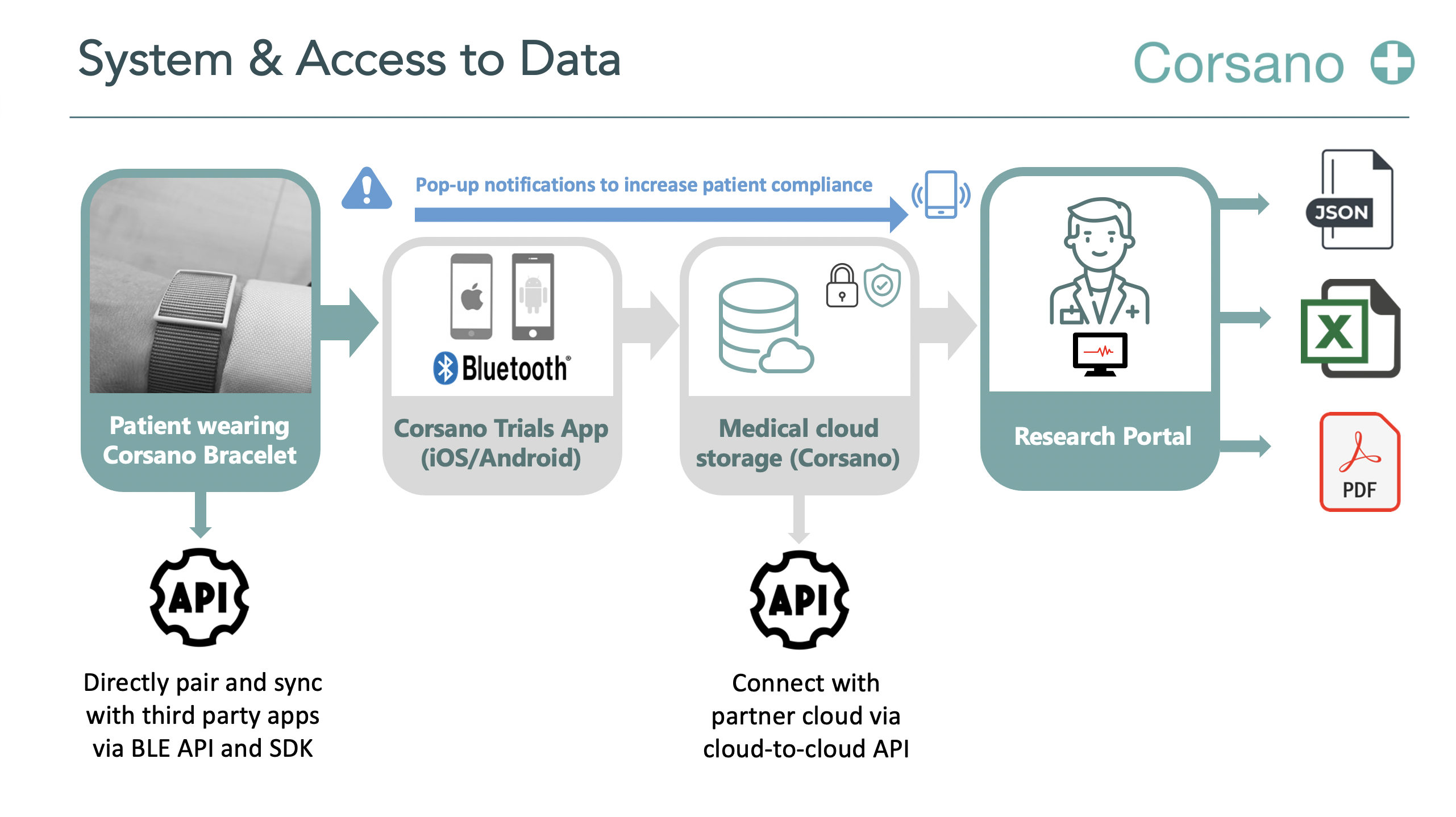 Corsano offers access to all data, i.e. Raw PPG Green, Red and Infrared data can be exported via the Research Portal.
Corsano AF
The Corsano AF app is intended for end-users and provides seamless integration with Preventicus Heartbeats, a CE Class IIa certified medical device to analyse your heartbeat, but also and especially heart rhythm.
Using the PPG sensor in the bracelet, a pulse curve is captured continuously, and the heart rate data derived. If any evidence of arrhythmia is found, the user can store the underlying information in a measurement report. The user is also recommended to undergo further medical assessment by professionals. Preventicus has verified the detection of atrial fibrillation and extrasystoles and the accuracy of the heart rate detected with in-house clinical studies (see also: www.preventicus.com/Studien). These have shown that the underlying algorithm of the app can distinguish between atrial fibrillation and a regular heart rhythm with an accuracy of more than 96%. 
Analysis
The purpose of Preventicus Heartbeats is to detect signs of the presence of cardiac arrhythmias in a non-clinical environment. This includes the following cardiac arrhythmias: detection of signs of absolute arrhythmia with suspected atrial fibrillation, detection of signs of extrasystoles as well as measuring the heart rate with signs of bradycardia and tachycardia without further diagnostic differentiation.
1)     Summarised results of the heart rhythm analysis
2)     Heart rate in beats per minute (bpm) over the entire measurement
3)     The original pulse curve.
Cardiac arrhythmias such as atrial fibrillation often occur only occasionally and can therefore be difficult to prove in the doctor's office. Therefore, screening for cardiac arrhythmia by regular measurements of the heart rhythm is a precautionary measure for heart attack prevention recommended by cardiological societies.
Validated data
Continuous vital sign data from wireless sensors in Corsano's Bracelet with proven accuracy and clinical acceptance
Better data quality
Ergonomic form factor of Corsano's Bracelet with wireless communication reduces motion artifacts and overcomes data loss due to cable detachment
Real-time, continuous algorithms
Early indications of deterioration allow simpler, more timely interventions
Enhanced early mobility
Corsano's Bracelet is unobtrusive and allows freedom of movement and avoids confinement to a bed
Seamless transition from hospital to home
Transparent process with Device Hub. Continuous data acquisition to treatment physician
Corsano Cardiowatch 287-2 Bracelet
Medical grade, multi-sensor, convenient bracelets for continuous monitoring of cardio-respiratory function
In the United States, Cardiowatch 287 Bracelets are for Investigational Use Only. The performance characteristics of Cardiowatch 287 Bracelets have not been established and Cardiowatch 287 Bracelets have not been FDA cleared or approved. FDA 510K Clearance are expected in Q4 2023 for Cardiowatch 287-2.