Advance healthcare with continuous patient monitoring
Vision
Corsano Health revolutionizes healthcare with its compact and lightweight medical patient wristband, backed by peer reviewed clinical validation and EU-MDR medical certification (FDA pending). Our AI analytics generate unparalleled insights for researchers and healthcare professionals.
Accelerate clinical trials and develop life-saving therapies faster
Research
We partner with leaders across the Research Community, Life Sciences, Healthcare and MedTech Industry to succeed in our vision to advance healthcare with continuous patient monitoring. Our advanced Research Platform speeds up the creation of biomarkers and the development of Medical Digital Therapies.
Lower overall healthcare costs and improve clinical outcomes
Patient Care
Corsano provides continuous Ambulatory Monitoring that reduces healthcare expenses, improves clinical outcomes, and enhances patient experiences. Our CardioWatch System detects early patient deterioration and impending rehospitalization with a predictive accuracy comparable to implanted devices.
Continuous Cardiac Monitoring.

Anytime, Anywhere.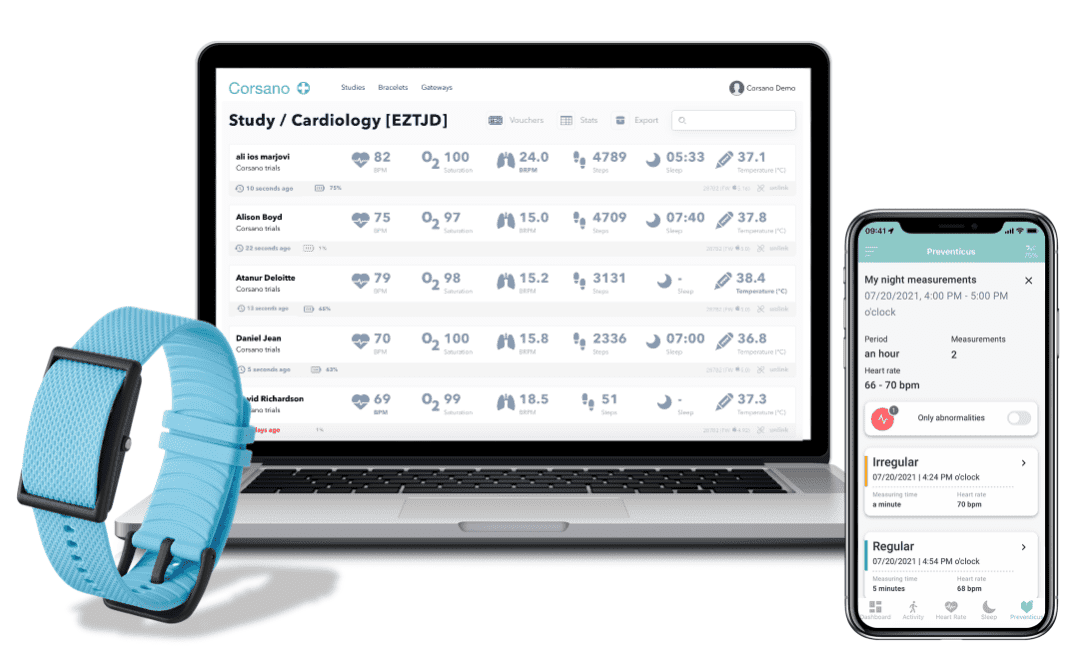 Real time patient monitoring platform, enabled by the world's most advanced smart bracelet for continuous monitoring of vital signs, with un-restricted access to raw data for AI and ML development. AI analytics that generate unparalleled insights for researchers and healthcare professionals.
Clinical Validation
Validation of a novel cuffless photoplethysmography-based wristband for measuring blood pressure according to the regulatory standard
Chronic hypertension is a significant risk factor for cardiovascular diseases (CVD) [1]. However, obtaining reliable and reproducible cuff blood pressure (BP) measurements is challenging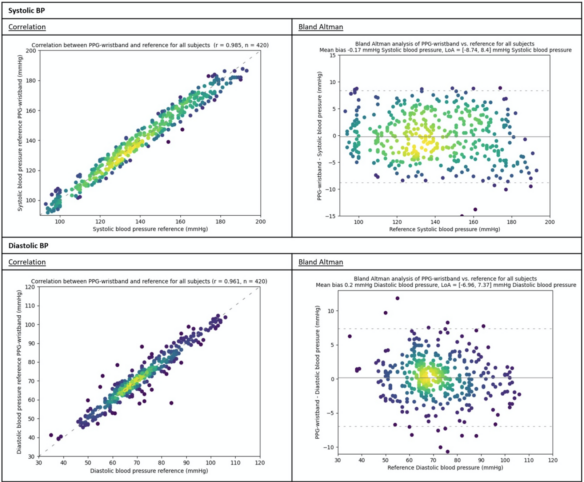 Read More
Smartphone and wearable detected atrial arrhythmias in Older Adults: Results of a fully digital European Case finding study
The fully remote, investigator-initiated Smartphone and Corsano Health's CardioWatch 287 wearable detected atrial arrhythmia ...
Read More
Clinical Validation
The accuracy of heartbeat detection using photoplethysmography technology in cardiac patients
This validation study showed that the Corsano 287 CardioWatch/Bracelet with PPG-technology can determine HR and RR-intervals with high accuracy in a cardiovascular patient population...
Read More
Clinical Validation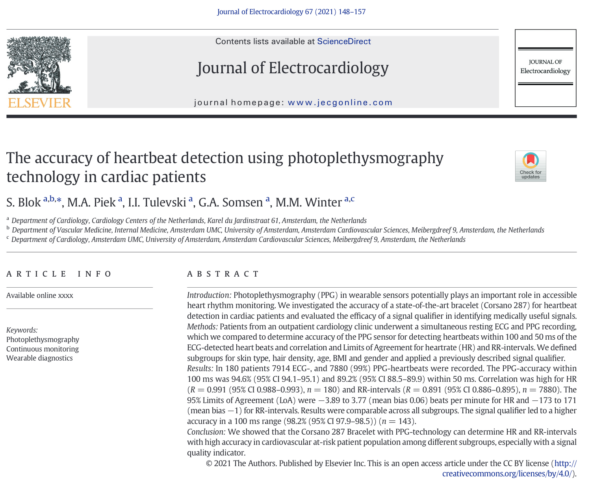 Validated Data
Clinical evidence for multiple use cases. ISO13485 and EU-
MDR certified
Clinic-focused
Built in close collaboration with clinical professionals.
Flexibility to develop custom solutions
Patient friendly
Ergonomic and aesthetic designs that stimulate continuous wear
Security & Privacy
Secure and Private Health Cloud, GDPR, HIPAA Compliant, Anonymization, Swiss Made
Use Cases
Corsano is enabling clinical trials, in-hospital and remote patient care across the entire care continuum with our clinically validated and EU-MDR certified CardioWatch 287 platform (FDA pending).
Clinical Trials: Corsano is currently involved in 40+ clinical trials - Cardiovascular, Oncology and Stress. Corsano's medically certified wearables increase credibility of studies and prepare for medical digital therapies. Corsano's involvement in important clinical trial research consortia accelerates the pace of medical research, enabling the discovery of new biomarkers and their clinical validation. 
Real-time Remote Patient Monitoring: Corsano CardioWatch 287 can monitor up to 19 Vital Parameters in real-time while post-discharge programs often rely solely on episodic vitals (spot measurements). Healthcare providers can develop personalized treatment plans that address the unique needs of each patient. Corsano can provide patients with real-time feedback on their progress, which can help motivate them to adhere to their treatment plan. Remote care-at-home programs deliver improved clinical outcomes, lower costs and better patient experience: 38% reduction in cost of care; 70% reduction in readmissions; 50% improvement in patient mobility
In-Hospital Monitoring: This is the solution where data from CardioWatch is directly streamed to the gateway (no need for phone app) and transferred to the hospital IT system, enabling central monitoring of patients and improved quality of work for nurses. By providing nurses with real-time information about their patients' conditions, central monitoring can help ensure that patients receive appropriate care, treatment, and medication at the right time, leading to better overall outcomes.
Corsano offers an API (Application Programming Interface) and SDK (Software Development Kit) to providers of remote patient monitoring platforms and researchers, which allows them to connect Corsano CardioWatch to their platform. The API and SDK enable to access the data collected by Corsano CardioWatch, including synching of raw PPG, ECG, ACC and BIOZ data.
Medical grade, multi-sensor, convenient Cardiowatch 287-2 bracelet for continuous monitoring of cardio-respiratory functions.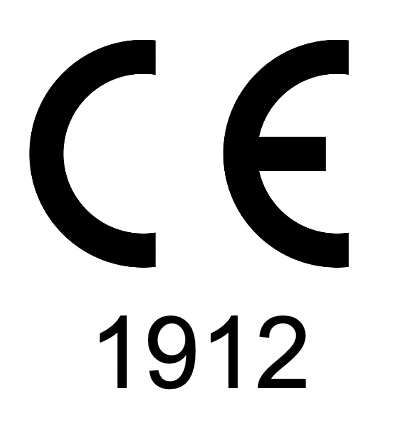 EU-MDR CE Certified
The Cardiowatch Bracelet is a wireless remote monitoring system intended for continuous collection of physiological data in healthcare and home settings. Cardiowatch 287 is a CE medical device certified under EU-MDR standards. This includes Pulse Rate, Heart Rate Variability (R-R intervals), ECG, SpO2, Respiration, Core Body Temperature, Blood Pressure, Activity and Sleep. Data is transmitted wirelessly from the device via the application or gateway to a health cloud where it is stored and made available for further analysis.
Corsano Cardiowatch can include the ability to notify healthcare professionals when physiological data fall outside selected parameters.
The high-quality patented interface enables the device to accurately measure the following vital parameters:
Sleep (validated PPG-Based Sleep Staging – Jul. 2017)

A-Fib (CE Class IIa Certified

algorithm

Preventicus – May 2018)

Activity Type, Speed, Cadence (v

alidat

ed VSO ELAN – Nov. 2019)

Heart Rate (validated CCN – Mar. 2021)

RR intervals (validated CCN – Mar. 2021)

Respiration Rate (validated

Haaglanden Clinics – Jun. 2021)

SPO2 (validated CMC

– Jun. 2022)

Core Body Temperature (validated GreenTeg - Mar. 2022)

Blood Pressure (Reinier de Graaf - Mar. 2023) Download the paper via this link.

Activity (RadBoudMC - Apr. 2023)

Cardiac Arrest (in validation RadBoudMC, ErasmusMC, AMC - Dec. 2024)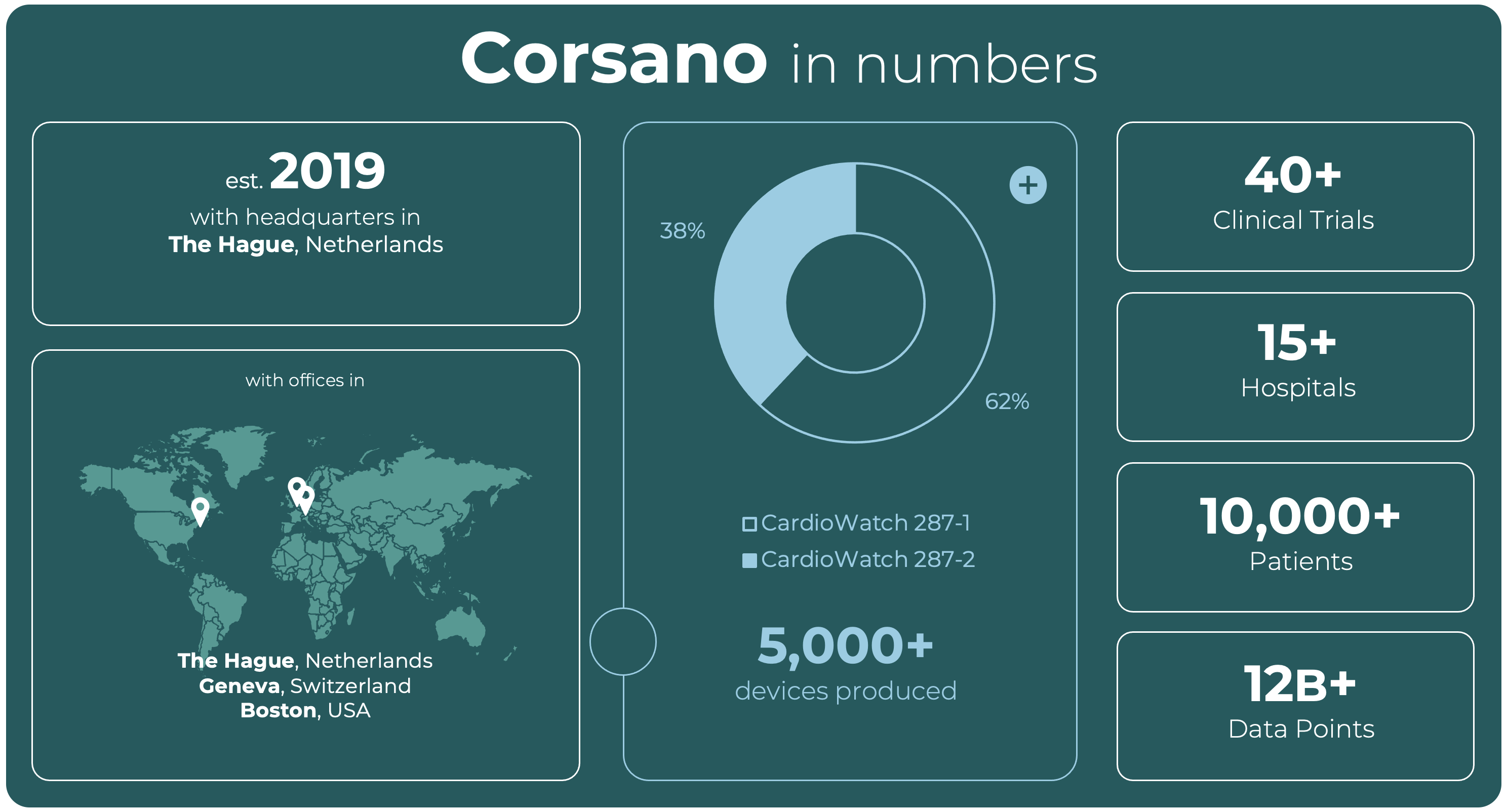 Testimonial
First, I wanted to let you and the Corsano team know how very impressed I am with your device. I've tried out more wearable sensors than most people, and the CW287-2B is, by far, my favorite and most valuable. Congratulations to your entire team for your vision and for delivering on that. I believe your technology will have a significant impact on improving health across the globe.
Prof. Steven Steinhubl, MD – Purdue University
Partners
Corsano has made "Cooperation" one of the core values upon which the company commits to base all its relationships. To be successful in business and life, a relationship has to be a two way street with give and take. At Corsano, we believe in cultivating good working relationships with our partners. We don't limit ourselves to a select few, but always attempt to find the best possible partners. Corsano develops and manufactures medical wearables for research and continuous patient monitoring, that is our core business. Our open strategy is to connect CardioWatch to partner platforms and systems via APIs abd SDKs. We provide access to raw and processed data to partners enabling them to offer a variety of medical research and patient care services. As such, we deal with hospitals, CROs, associations and companies worldwide.
Large Research Projects
Corsano participates in Europe's research and innovation challenges where we collaborate with researchers in consortia with partners. Corsano Health's CardioWatch is the preferred choice to measure vital parameters, both for the acquisition of raw data up to 128Hz, as well as validation clinical trials. We offer co-development of new features and algorithms to increase success of consortia applications. Example of awarded projects:
LifeTime
Project for a validated, energetically autonomous module that harvests from any source of light through a novel microchip, the PMIC developed by Nowi. Narrow-Band IoT chip (NB-IoT) will be integrated into the module for ubiquitous connectivity.

Watch-It
Clinical validation of a comprehensive care solution ('WATCH-IT') enabling 24/7 monitoring of cardio-respiratory function in patients at risk of cardiovascular (CV) events. Collaboration with Preventicus, Oslo University Hospital (OUH) and University of Gothenburg (GU).
Detect
Innovative solution to improve recognition and implementation of resuscitation assistance for patients with Cardiac Arrest. Development project in colaboration with RadboudMC to recognize Cardiac Arrest with Cardiowatch 287 Bracelet and alert emergency services.