Continuous Monitoring
Connected wearables will play a vital role in the future, enhancing the monitoring function for healthcare and seniors. Corsano aims to become a significant wearable company for medical, health and senior customers.
Replacing old world medical devices by a companion on the wrist:
Continuous non-invasive health monitoring with superior battery life
Detect infrequent, intermittent or asymptomatic arrhythmias
Diagnosis, post-stroke and post-procedure monitoring
Safety alerts for physicians, patients and professional care
Efficient remote monitoring 
In the following figure the User Scenario is presented in three different possible scenarios. In the first scenario a patient is treated for a heart arrhythmia and the cardiologist wants to validate if the treatment worked. In the second scenario a patient visits the general practitioner with pain on the chest. Instead of forwarding the patient directly to the cardiologist, the GP can execute this test to see if this is necessary. In the third scenario, the bracelet will be used in a research setting regarding Atrial Fibrillation.
Validated Data
Two of our key values are that our technique is medically reliable and validated correctly. We consider validation to be of imminent importance to our product offering and believe our product is at the forefront of current market standards enabling application of the data generated by our products for medical purposes. As a focused company we develop and help to operate monitoring processes for our customers, clinical organisations, and their patients.  A number of articles have already been published in support of Corsano's and its partner's scientific approach. Moreover, Corsano is working closely with cardiologists, scientists, hospitals, patients and research organisations. The Corsano CardioWatch 287 is enrolled in multiple clinical trials to validate the functionality even more. Information on the published articles and the current clinical trials can be found on the research page. In case you want to join the Clinical Trials for Corsano, contact us!
Patient Friendly
The bracelet is esthetic and comfortable for the patient, which is favorable for both the patient as the clinician. For the patient it is less of a burden in comparison to for instance monitoring with a holter, because he or she only needs to wear the bracelet. Furthermore, the patient doesn't have to take into account the wearable and can pursue his normal life.
This results in beneficial outcomes for the clinician as well, because the patient can wear the bracelet for an undetermined time in which it will continuously monitor the heart. In addition, because the patient isn't limited in his normal life, it results in a better representation of reality.
Cardiac Vitals
Detect and monitor health conditions and changes in physiology using our range of Cardiac Vitals, all collected via Corsano's medical-grade bracelet.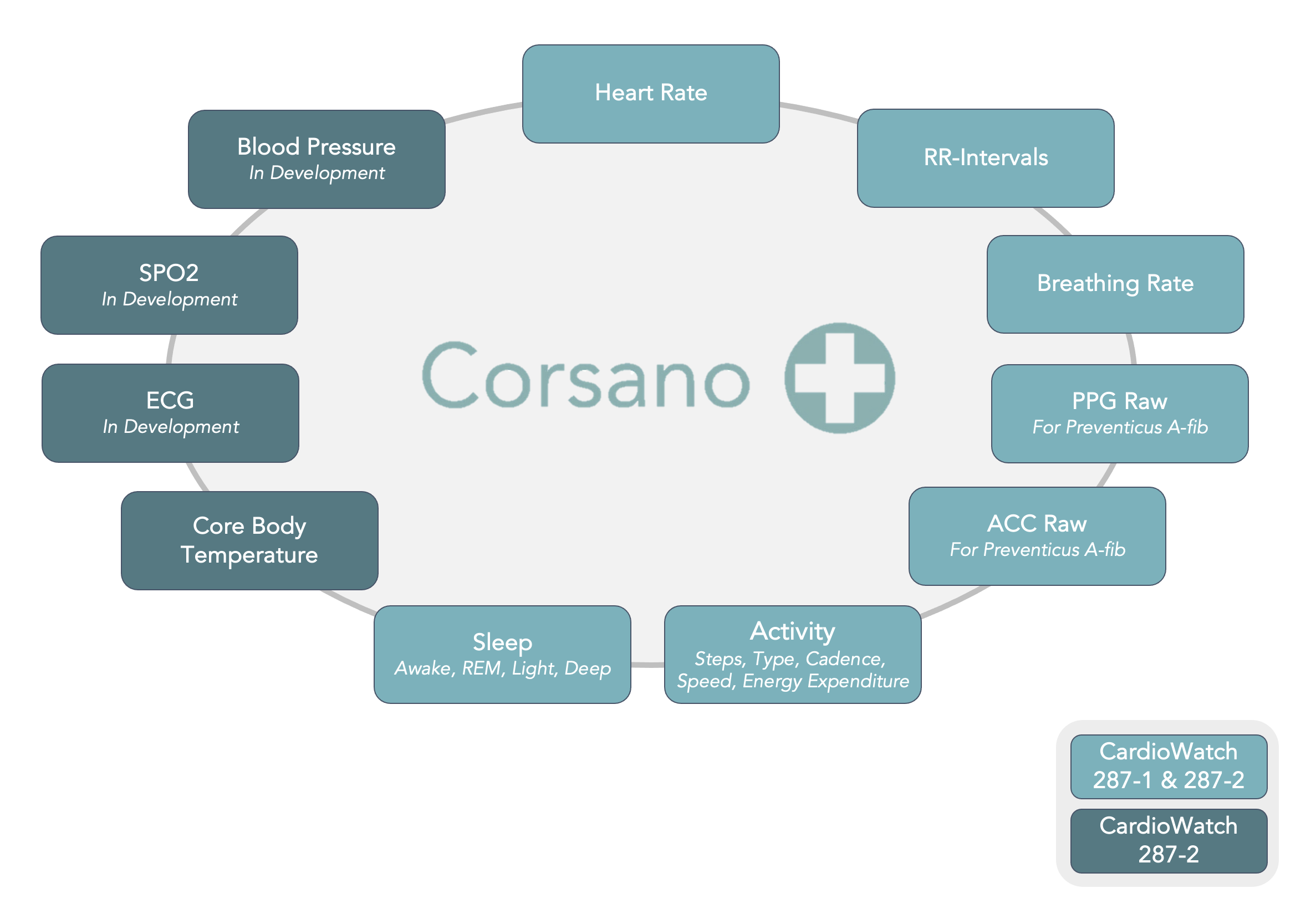 Corsano uses an optical sensor and a proprietary algorithm to measure blood volume variations and an accelerometer to track body motion to produce highly accurate results. 
Benefits
Corsano provides a superior product at a competitive price compared to the larger wearable providers:
Clinical Apps
Corsano developed various custom applications that enable easy data acquisition with Corsano's medical-grade bracelets in hospitals and research centers.
Device Hub
We also enable a direct connection to the Hospital IT System with our partner Leitwert. The Device Hub enables CRO's to continuously monitor the vital signs of trial participants. It automates the capturing of parameters from any device and monitors data quality in real time. Thereby, researchers can conduct efficient and long-term clinical trials based on Real World Data to validate medical devices, develop conventional and digital treatments and objectify outcomes.
Clinical Partners
Corsano's medical-grade bracelets are already being used in studies to continuously collect health information from patients and study participants. This information is enabling clinicians and researchers to gain a better understanding of cardiac health and Atrial Fibrillation in particular.